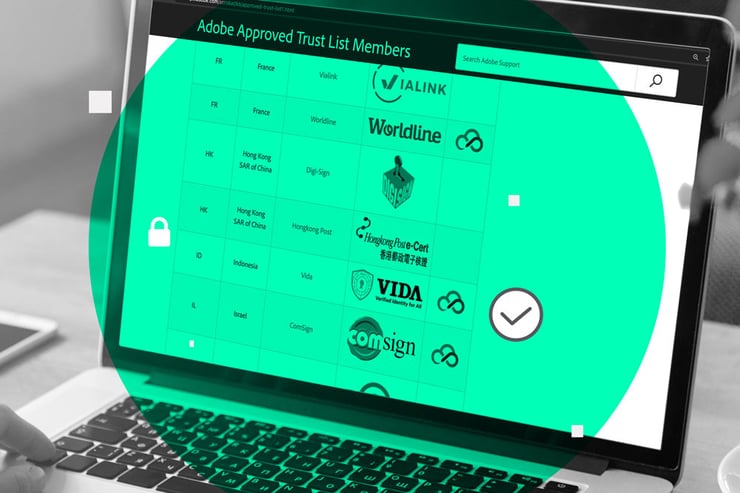 An electronic signature is a signature technology that gives users the ability to sign documents more easily. No need to meet face to face. No need to travel. No need to print documents. All processes are compact and secure thanks to digital documents.
As far as digital documents go, so far we are familiar with PDF (portable document format) technology, which allows documents to be read digitally. One pdf document-reading software product, Adobe Acrobat, has gained acceptance in various parts of the world. This application enables validated digital signatures that are legally enforceable.
However, not everyone uses Adobe Acrobat. There are times when you use other applications to read digital documents. Although both can read PDF documents, not all digital-document reader applications are capable of reading digital-signature validation certificates - the main component of digital signatures.
Adobe has guaranteed the ability to validate digital signature certificates through the Adobe Approved Trust List (AATL). AATL is an Adobe program that brings together digital signature provider partners to enable automatic digital-document validation detection.
The Adobe Approved Trust List is a list of Adobe partners that makes it easy to validate documents without having to manually upload a digital certificate on the device where the document is viewed. That means, when someone receives a PDF document with a digital signature that is AATL certified, he or she will find a valid document when opening it using Adobe Acrobat.
This e-signature integration certification provides the convenience of implementing e-signatures while in the Adobe partner ecosystem. Up to now, there are around 76 digital certificate issuers in various countries of the world who are AATL members. The majority of these are developed countries such as the United States, Germany, Switzerland, Canada, China and others, where the application of digital signatures is common..
One of the signatures included in the AATL is the digital signature issued by VIDA. That means that every digital signature issued by VIDA will receive a valid status when opened using Adobe's PDF reader application. This is thanks to cloud integration, which allows VIDA digital signatures to be automatically trusted and recognized.
"Adobe's PDF format is an excellent format for presenting official documents. Since VIDA is included in Adobe's list of trusted providers, users can create digital signatures that are recognized by various Adobe document applications. This addresses the critical issue of how trustworthy digital signatures are. VIDA has been carefully evaluated by Adobe to ensure that our services and credentials meet the AATL technical requirements, which also include compliance and certification to WebTrust CA 2.2. VIDA users can sign documents with confidence, knowing that their recipient can easily trust the signature through Adobe's trusted green check mark and blue ribbon, "said VIDA Chief Operations Officer, Gajendran Kandasamy.
Validated Digital Signature Process
To make a valid signature, follow these steps:
1. Prepare a PDF Digital Document
The documents required for a digital signature are digital documents. When your cooperation document, contract document or other document requiring a signature is ready, you need to change the format to PDF so that the document can be detected by the signing application.
2. Use a signing application
Today there are many digital signature applications available. You should pay attention to whether the application you are using has been certified to be able to issue digital certificates in accordance with regulatory standards or not.
If you use a digital signature issued by VIDA, your signature will be guaranteed valid in accordance with the Republic of Indonesia's laws on digital signatures.
3. Issue signed documents
After the digital document has been signed, you can issue the document to the intended recipient of the document such as your business partners, or clients.
When the digital document has been published, make sure the recipient of the document opens the document using the Adobe Reader application. This is to ensure that the digital signature that you publish using VIDA can be read and detected as valid wherever the document is opened.
The validation data that can be read in the Adobe application include the identity of the signatory, time of the signing, issuer of the electronic certificate, and the document's record status listing any changes that have been made. Metadata validation is important to determine whether the digital document has legal force or not.
Importance of AATL
Becoming a member of AATL is not easy, because a digital signature provider must be able to guarantee that its digital signature service meets every security and technical requirement according to Adobe standards. Some of these standards include meeting the legal rules and regulations for digital signatures in the European Union eIDAS and SAFE-Biopharma standards.
In Indonesia, VIDA is the first PSrE (Digital Certificate Operator) to become a member of the AATL. This means that, through its product VIDA Sign, VIDA can easily guarantee the validity of digital documents using digital signatures in Indonesia, because Adobe applications are widely known in both the private and public sectors.
Thanks to PSrE, which is a member of the AATL, it is easy to use digital signatures in Indonesia. You no longer need to download or install additional applications to validate e-signatures. You only need to use a digital signature issued by VIDA and then use Adobe Acrobat Reader to read the digital document either via a smartphone or laptop. Easy, right?
Read: Do Digital Signatures Really Make Life Easier? Here is the proof