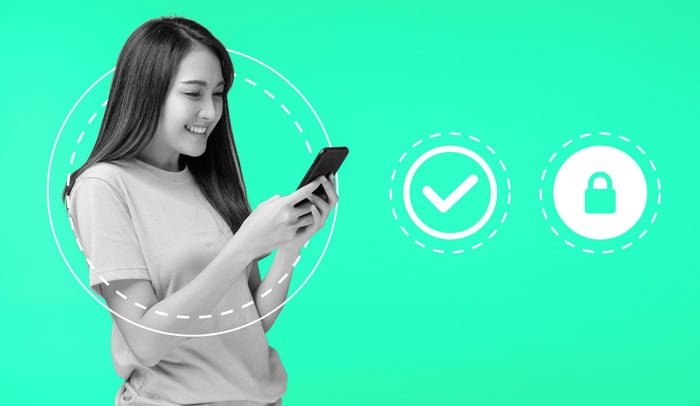 Technological advances are changing companies, organizations, and operational modules from conventional to all-digital. Online transactions made by consumers are the driving force for digital transformation in business. For this reason, secure identity verification must be carried out as a function of online service provision and as a source of added value to compete with competitors.
Digital identity verification plays an essential role in increasing customer conversions in transactions. Are you curious? Here is the secret!
The Role of Identity Verification in Business
In this digital era, consumers are becoming more aware of the security features provided by an online service and the risk of cybercrime, such as consumer data leakage, which can result in identity fraud and other types of fraud. Companies are required to implement a robust security system so that consumers feel safe interacting and transacting.
Digital trust is increasingly fundamental to the development of the digital economy, where the more trust people have, the more they will make more significant transactions. This is where identity-verification technology can be a solution.
Many identity-verification systems involve biometric-verification technology. Biometric verification is a method of verifying identity by measuring and analyzing a person's physical or behavioral characteristics, such as fingerprints, facial recognition, and voice patterns.
How Identity Verification Increases Conversions
Here are some ways that identity verification can increase conversions in the customer acquisition process.
Simplify the Identity Verification Process
Too many identity-verification steps will make the identification process longer, leading consumers to seek a more practical solution. The identity-verification process requires a neat, easy and secure flow.
That's why a good identity verification system with biometric technology can be the right solution. Thanks to biometric verification technology, consumers no longer need to submit an ID card or passport to verify identity, which can also be used to authenticate transactions.
Data Security and Protection
Customer data security is the most important aspect that must be maintained to build trust between consumers and the company. The provision of consumers' digital identity is consensual, and the company is obliged to provide a guarantee that the data will not be misused.
Without data protection, consumers will not transact or use your services. Build consumer trust by having a privacy policy and informing them during registration.
Notification Status Verification
To make the registration and identity verification process as painless as possible for your consumers, you should provide instructions and notifications if the verification process has not been completed. Many things can interfere with the verification process, such as documents that fail to upload or documents that fail to be verified because the images are unclear. Provide information on how to solve this problem.
If the customer hasn't completed the process, you can send them reminders and information about the steps to take to complete the process. Build trust in the registration and verification flow by providing information about the company's regulations and privacy policies.
Consistent Update
Regularly update your FAQs and information on social media or applications, website speed, responsive customer service, and other things based on customer suggestions and input.
Biometric Verification
After the customer has completed the registration and verification processes, the company can offer a login service with biometric authentication so that the customer does not need to fill in data such as email/phone number, username, and password. Make sure customers know the benefits of biometric verification compared to manual methods that can lead to forgotten or stolen passwords.
VIDA Verify, Your Facial Biometric Verification Solution
The traditional identification process generally uses email, phone number, or username and password. However, this identification method can cause problems because it is not unique. In addition, companies must be able to verify their authenticity in the least intrusive and inconvenient way possible.
VIDA Verify is a solution from VIDA to verify digital identity to help service providers verify their customers with a high level of security and world-class technology to increase user convenience.
By comparing biometric and demographic data with national databases, VIDA identity verification provides legal assurance of user identity and a high level of assurance. During biometric verification, authentication and authorization processes occur so that it is unlikely that the user's identity can be faked.
Apart from being locally certified, VIDA is also ISO 27001 certified for data security management and is the only PSrE in Indonesia certified by Webtrust as a globally recognized guarantee of internet security standards. The technology used by VIDA has been standardized by NIST, which has an accuracy of 99.2%, so it is safe and reliable.
VIDA will store the customer's biometric data with the customer's permission and consent to be used only for verification when required by the customer and the service provider. Contact our team for more information about the VIDA Verify service.