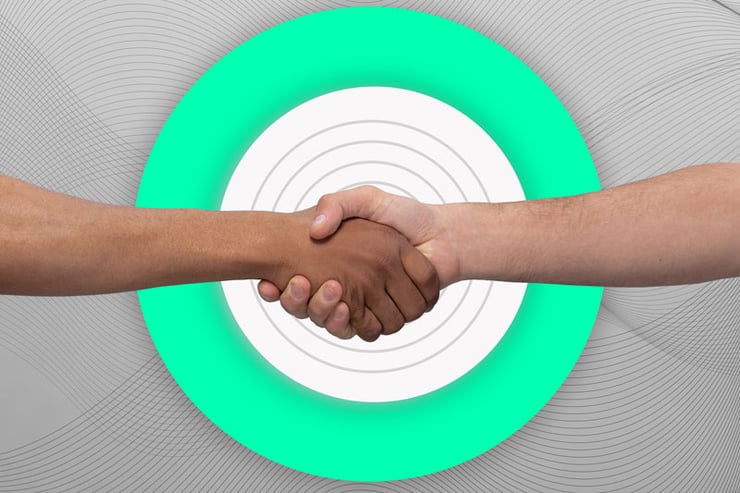 The government is committed to continuing to create an ecosystem that supports the growth of digital economic transactions in Indonesia. Indonesia has great potential to strengthen opportunities for accelerating the development of the digital economy. To optimize the potential of the digital economy, there are a number of things that must be improved, including telecommunications infrastructure and digital consumer protection.
Along with the development of the digital economy, user trust in interacting and conducting digital transactions, or called digital trust becomes critical. What is digital trust? Read more in this article.
Digital Trust in Business
Digital security challenges and risks are increasing along with the rapid development of technology. The role of digital platforms in building digital trust or user trust in interacting and transacting digitally is fundamental in building trust in the digital industry as the key to digital economic growth in 2022.
Digital trust is also an important requirement for businesses in using digital technology, as people become increasingly aware of the importance of data privacy and identity security.
Four Pillars of Digital Trust
The following are the four pillars of digital trust that are must-haves for business:
1. Transparency and accessibility
With an increasing number of digital products and services, customers expect transparency in every aspect of their interactions with a brand or company. In the digital world, information from around the world can be accessed easily. We can easily find out what products and services are available.
2. Ethics and Responsibilities
The digital world also has a dark side to watch out for. Digital service providers must understand how to use available technology in compliance with applicable regulations, values​​, and laws.
3. Privacy and Control
In digital transactions, a privacy policy as a guarantee of the security of personal data protection is mandatory. The confidentiality of the identity given at the time of the transaction must be maintained, except at the request of the customer. The provision of data is done consensually and its use is based on mutual agreement, thus creating a trusting relationship between companies and their customers.
4. Security and Reliability
Keeping customer data safe is everything to maintain customer trust as users of digital services. Customers will choose a company that has a high level of security to keep their data safe. That way, customers can more comfortably transact without worrying that their data will be misused or hacked.
5. How to Build Digital Trust
We are all aware of the impact of customer data leakage, and the threat it poses to the credibility of electronic-service providers. The government is currently drafting a law on consumer data protection. In addition to positively impacting the brand image, the security of personal data can have legal consequences in the future. Returning customers are those who have confidence that their data is safe and protected. Digital identities must be protected from various types of fraud and other misuses of data.
There are various ways of providing digital trust: identity verification, authentication, and digital-signature services. Surveys conducted in various countries have shown that when the digital platform used is equipped with these services, consumers have no doubts about the security of the data or digital identity they use.
In Indonesia, PSrEs exist to provide verification, authentication and certified digital-signature services. This has also been regulated by the government in PP no. 71 year 2019.
VIDA PSrE World-Class Technology
As a manifestation of the effort to provide digital trust, VIDA offers security and ease of use at the same time with world-class biometric technology in providing identity verification and authentication services, access management, and certified digital signatures, which are certainly useful for supporting business partners to develop their business quickly and efficiently.
VIDA also applies world-class technology standards that are certified and internationally recognized by conducting regular audits and obtaining various certifications, both local and global.
In Indonesia, VIDA is the first PSrE to obtain WebTrust accreditation and is registered as a Trust Service Provider for world-class digital-signature service providers such as Adobe Sign, Docusign and emSigner as providers of digital certificates for secure digital-signature services. VIDA is also the first Indonesian PSrE to be listed on the Adobe Approved Trust List (AATL). VIDA is also ISO 27001 certified for the application of information management security standards.
VIDA's VIDA Verify service is an identity verification solution equipped with facial-recognition technology that uses a combination of facial-attribution software and liveness detection to ensure user validity with up to 99.2% accuracy, eliminating the possibility of fake registrations, app fraud, and identity fraud. Face verification implemented by VIDA uses official data owned by the Director General of Civil Registration as a database for verifying identity.
In addition to Silent Liveness Detection technology, VIDA Verify uses Anti-Spoofing technology, which is an AI deep-learning technology designed to prevent scammers from using images, videos, and masks to fake identities.
Accelerate your business by using digital solutions from VIDA. Find out more about other products that suit your business needs here.

Read: Projected Growth of Digital Signatures over the Next Five Years