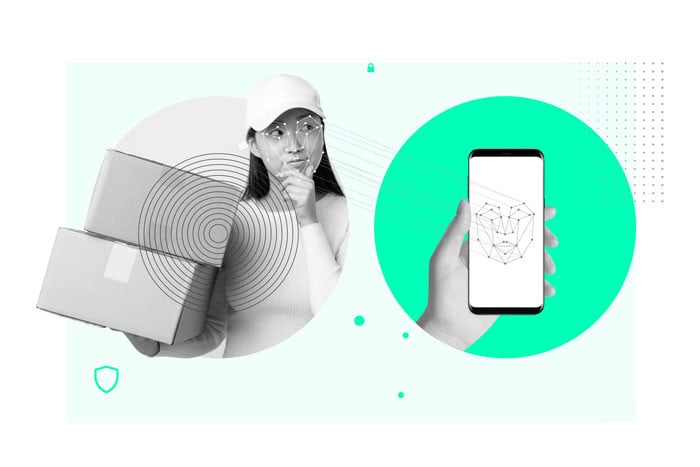 VIDA Verify Facial Biometrics is a face-verification solution that uses a combination of facial attribution and liveness detection software to determine with more than 99.5% accuracy.
The current pandemic has led to a rapid growth in the logistics and courier industry, because it means goods can be delivered without face-to-face interaction, and is thus the safest and most convenient option for the public.
Facial biometric verification technology is an important way of simplifying transactions and operations for couriers and MSME owners during digital onboarding. It has enabled many logistics companies to implement digital onboarding that is easy, safe, and fast.
Check out the following review of the application of digital onboarding in the freight forwarding service industry.
Get to know Digital Onboarding in Freight Forwarding Services
To minimize physical and face-to-face contact which has the potential to spread the Covid-19 virus, companies must also be able to provide an easier and more comfortable digital onboarding experience.
The digital onboarding experience is very important because potential customers have given their trust in the form of their digital identity to the company and this is not an easy decision.
A report published by medcom.id describes how logistics services can help speed up the effort to digitize Micro, Small and Medium Enterprises (MSMEs) during the pandemic. MSME growth has been helped considerably by increased e-commerce activity, which has in turn necessitated a stable flow of logistics to support shopping activities for local products. With digital onboarding, MSME owners can easily register for goods delivery services.
Besides being useful for MSME owners, digital onboarding can also help couriers working in freight forwarding. It enables prospective couriers to register anywhere and anytime, without the need to visit the location or join a queue.
What is Facial Biometric Verification?
Technological advances have led to the introduction of more secure identity verification systems that do not rely solely on codes and passwords but also on biometric technology. Biometrics are physical characteristics or human behavior that are completely unique to an individual. These traits include the shape of the face, which is the basis of facial recognition technology that is increasingly being adopted by many companies. Facial biometric verification uses facial recognition technology to identify identity and validate identity owners. Generally, biometric technology has liveness detection capabilities.
Liveness Detection Technology in Biometric Verification
Liveness detection is a biometric technology system to detect the biometric authenticity of a person. Life detection technology from biometrics will judge the verification process as genuine if the analysis results show similarities between the stored biometric data and the live biometric data shown.
With this capability, liveness detection technology has become an inseparable part of the authentication and onboarding process in companies and has begun to be widely used because it is considered to have better security aspects than other security protocols.
Benefits of Biometric Verification for Freight Forwarding
1. Short process time
While the conventional onboarding process often takes days, digital onboarding and biometric verification can be done almost instantaneously.
2. Guaranteed safety
If the biometric system is equipped with Liveness Detection technology, access attempts by fake identities can be denied so that the identity security of customers and couriers is guaranteed.
3. Practicality
Biometric verification is very convenient; all you need to do is scan your face without carrying any other equipment or entering a password.
4. Cost savings
With a shorter process and fewer parties involved, biometric verification can save operational costs caused by conventional onboarding.
5. Lack of access by others
The biometric process can only be carried out by individuals with the correct profile, so the possibility of access intervention by other parties is minimized.
6. Easy integration
Biometric verification is easy to integrate with various devices according to your needs.
7. Accuracy
As well as being practical, biometric verification is also highly accurate in performing identity verification.
VIDA Verify, Logistics Business Solution and Delivery Service
VIDA Verify protects user identity accounts with the most secure, fast, and practical technology available. By comparing biometric and demographic data with national databases, VIDA identity verification provides legal assurance of user identity and a high level of assurance.
Apart from being locally certified, VIDA is also ISO 27001 certified for data security management and is the only PSrE in Indonesia certified by Webtrust as a globally recognized guarantee of internet security standards. The technology used by VIDA has been standardized by NIST, which has an accuracy of more than 99.5%, making it safe and reliable.
Trust your digital onboarding with VIDA's world-class technology. This is because we uphold consumer protection principles such as data privacy and data security which must be maintained in the identity verification process.
The combination of a convenient digital onboarding system, biometric verification, and the right service provider will be able to provide an optimal digital onboarding experience for prospective customers.